Valentine Ideas for Him and Her
Write out your fantasies.
As hot as it might be to have your S.O. whisper their fantasies to you, the truth is that saying those fantasies out loud can be a little nerve-racking. "Putting pen to paper could help you unlock your sexual confidence," We suggests setting time a week or so in advance to write the letters and then swap with each other. You can swap on Valentine's Day or beforehand if you need extra props or some such. Or just go for the grand reveal on Valentine's Day and make it all about reading the steamy erotica you've written instead of putting pressure on yourselves to act out everything in real time.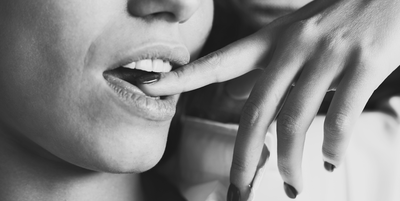 Spice up your sex with some role-play.
Plan on meeting at a bar. Then, introduce yourself to your significant other when they happen to sit right next to you. From then on, you two can play out a situation with completely different occupations and names. The possibilities are endless! Take it back to the bedroom and end your role-play fantasy with a bang.

Have sex before dinner.
Think about it: You have a delicious glass of wine and another and another. Then the dinner, then the dessert, and all of a sudden, it's midnight and you have work the next day. Full, buzzed, and exhausted aren't always the best circumstances for a night of sex. So get it on before you leave for your date instead, and spend the rest of the meal basking in a sexy afterglow. And you know, more wine.
Buy each other one new sexy item for the bedroom.
A massage oil candle or a new vibrator, perhaps? If your hope is to shake up your sex routine, commit to bringing one new thing to the bedroom.
Spend the day sexting.
If you shoot off quick, sexy missives of what you want to do to each other throughout the day, then come nighttime, you'll have a hot script of your own to act out. Plus, the buildup of anticipation is unbearable in the best way.
Give an Erotic Massage to each other.
Giving each other a sensual massage could be one of the sexiest things to do as a couple. Sets the mood for a night of sexual giving and a great way to give orgasms before the canoodling begins. Two ways you can go on this idea. You can try a flavored massage oil that you can lick off later or An Aromatic Aroma therapy massage. Either will set the mood and a create a really fun sexy night for both.
Conclusion
These are just some ideas to help make Valentine's Day fun and sexy for any partner. Try one of these ideas or try them all. WE hope you have a fantastic Valentines Day
|
Posted on January 29 2021