Top 5 New Year Sexual Resolutions
Resolution 1
Let's Spice it up a little. This new position is perfect for that. It is called the "Pretzel Dip" for obvious reasons. Why we think this is a great position to try this year. This is a deep penetration position that enables the male to get as much penetration as possible. Because of the access to the hips the man or woman get get as close as they can. Another great thing about this position is the persons on top access to the clitoris. Adding a gentle rubbing rotation with the in's and out's of penetration. Go ahead and grab her hips and pull her close.  We think each month you should try a new position. You may find a new favorite.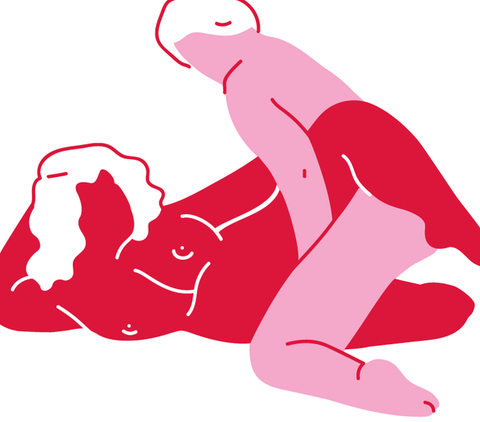 (January Position)The Pretzel Dip
Resolution 2
Go down on your partner more!!
Who doesn't like oral? I am a firm believer that the more oral you give, the more oral you receive. I'm not saying that is the way to a loved ones heart is through their genitalia, but it sure doesn't hurt. So lets dedicate 20 minutes at least once a week to oral pleasuring your partner. He and she will love it. Another thing to try while doing oral is using a slim G Spot toy like the Vedo Gee. This toy has a good vibration and is slim enough to use during oral, giving her a chance at a G Spot/Oral Orgasm at the same time. I am guessing she would like that immensely. As for added fun to his oral experience try putting vibration on the Perineum while giving head. Most men love preasure in this location. It is also a way to do an external prostate massage. Another fun idea is using a small stroker like the Zolo Pocket Stroker to kick oral up a notch. Who doesn't like oral fun?

Resolution 3
Try a sex Toy you Never Tried?

There are so many sex toy choices on the adult retail market these days. It can be a bit confusing. We think you should try something that is new and have never tried before, like a suction toy. Womanizer's and Satisfyer's are at the top of new tech out there. Maybe a Vibrating Love Ring for couples or Remote Control undies while out on a date. Buzzing your partner in public is both fun and a great way to have foreplay. For the more adventurous type an Anal Sex Toy can be worked into both oral and intercourse play. The point is take some chances because you only live once. Sex is one of the most important things in life.
Resolution 4  
Try some Bondage?

Adding a blindfold is always fun. Brings in other senses which is always a great way to up your sex game. Sometimes its what you don't see that turns you on, not what you do see. Maybe a Flogger lightly dragged across the cheeks and then with a snap of the wrist a sudden pop on the ass cheek. This will wake up her senses and send pleasure waves through her body. Not too hard though unless she gives permission. Always good to have a safe word for this type of play. You might even discover a completely new turn on. Never too late to learn a new trick.
Resolution 5
Watching porn together is a great way to find out what turns your partner on. She may get turned on by lesbian sex or even group sex. This doesn't mean you should run out and try to act out these fantasies, but porn can help explore fantasies in an open and non judgemental environment. It's all about getting sexually turned on anyway. Open your mind up. As for masturbation together I have found it's a perfect way to learn what your partner really likes? See how they touch themselves. He can see how you rub your clitoris? Do you like fingers? Does she prefer sex toys more than a touch of the hand. You can see if he plays with his testicles or he likes shorter strokes or does he use the length of the penis. All these things will help understand what your partner likes on a sexual level.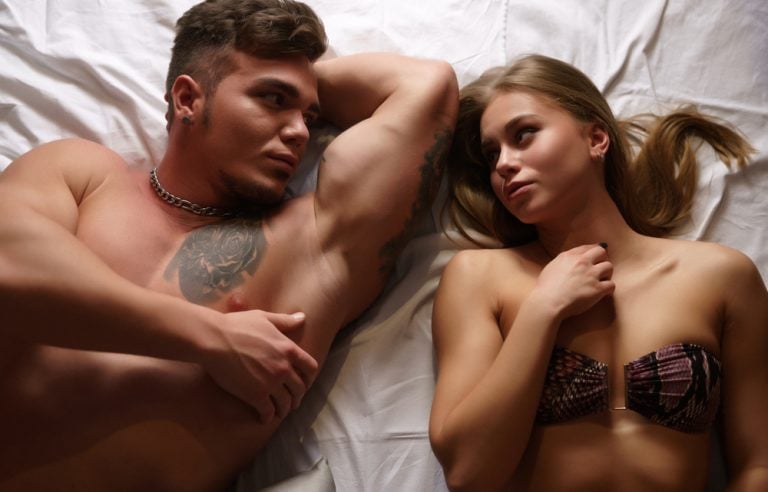 Conclusion?
All these sex acts or suggestions are just some ideas to having a better sex life this New Year. We suggest you create your own list of resolutions to fit what you would like to see different in your sex life this year. It will enhance your relationship and help you explore sexually in an open and honest manner.

Written by Tim Sizemore
Have been owner of Intimates Boutique for 20 years. I am certified in sexual education and sex toy expert. Sharing my knowledge is one of my biggest passions. Hope you enjoy the information.
|
Posted on January 03 2020