Choosing A Harness
Strap-ons are a great sex toy for ladies, couples and even men. They allow you to penetrate your partner, while keeping your hands free for...other things. A strap-on harness lets the wearer have more comfort and control, ensuring they can give the most pleasure to their partner. You can also switch dildos in and out of a harness so you can experiment with a whole range of toys.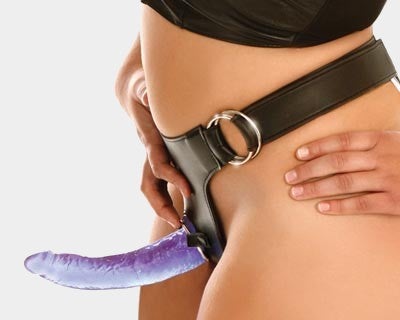 Difference in Materials
Leather harnesses look and feel great, but they're harder to clean. Leather harnesses will also stretch a bit when you first use them, so you may need to tighten the straps a few times as they do.
Nylon and fabric harnesses can be machine washed. Put them in a lingerie bag so they don't get tangled in the machine and line-dry them.
Vinyl harnesses can be wiped clean with soap and water.
How's the Fit?
Our Harness Buying Guide can help.
Many harnesses are made for both men and women to wear.
Single-strap harnesses fit like a G-string. They give you more control, but some may find them uncomfortable to wear.
Two-strap harnesses take a bit more practice, but they're often more comfortable and you don't have to take them off to be on the receiving end.
Underwear harnesses look like regular underwear. They are sized by waist measurements, like men's underwear. Unlike other harness styles, the O-ring is sewn into the harness and can't be switched out.
For the greatest range of dildo options, buy a harness that uses snaps to attach the O-ring. This way you can trade out the O-rings to accommodate different-sized dildos. One of the coolest things about harness play is the versatility, allowing you to alter the shape and size of dildos according to what you're in the mood at that moment.
 Browse our Harness Kits!
How to Use a Harness
Harnesses can take a little practice. Give yourself some time to experiment. Buckles are more secure, but they take a little more effort to get just right. When you change positions, you may need to tighten or loosen your harness, especially the leg straps. Many people make the mistake of moving too much or too hard (that lack of nerve endings can be problematic). Thrusting is a simple, subtle movement; we don't have to move nearly as much as we think we do to have a big effect on a partner, especially with anal penetration. Keep the movements small until your partner indicates otherwise.
Harnesses used to be associated mainly with girl on girl play, which is still the number one use for harnesses and dildos. However, in recent years, Pegging has become very popular with couples looking to explore something new and even male prostate exploration.
Vac-U-Lock
Doc Johnson came up with an ingenious strap-on system. Vac-U-Lock is the world's first fully interchangeable pleasure system which enables you to enjoy strap on sex, without worrying about O-rings, flared bases and appendage girths. Unlike most strap-ons which require an O-ring set up, Vac-U-Lock strap-ons feature a unique plug system which securely holds your attachment in place. Vac-U-Lock harnesses are only compatible with Vac-U-Lock attachments. All you need to do is check whether the toy is Vac-U-Lock friendly, and you're good to go!
Browse Vac-U-Lock Dongs.
Dongs
Dongs, or dildos, are harness-friendly when they have a flared base, most often with a flat bottom to better lie against the wearer's body. Some dildos don't have this kind of base but are still compatible because the base of the shaft has enough material around it to prevent pulling through the O-ring during sex. The number one rule for picking out a dildo for strap-on sex is that the receiving partner should have the most say in the choice. The number one rule for picking out a dildo for strap-on sex is that the receiving partner should have the most say in the choice. The second rule of choosing a dildo is to consider where it will be penetrating. You might opt for a longer attachment.
Hollow dildos are excellent for men who have Erectile Dysfunction and for women or men that want to insert their own vibrator. Men can also use them when they experience premature ejaculation or get worn out and their partner wants to keep going. There are also double penetrating hollow dongs. These can be worn by women as well.
If you're more experienced, there's also the strapless strap-on. With one of these, you can get a greater sense of closeness as there are no straps to get in the way. These are made for women.