What's the Appeal of Glass Toys?
You walk into an adult store and you get the asking some questions. One of the toys I end up recommending is glass. Glass? Why glass? I start explaining why it is one of my favorite materials and what all its good for.
One of the biggest reasons glass is great is because it is super sanitary. Glass can be sterilized and sanitized, making it the most sanitary material for toys.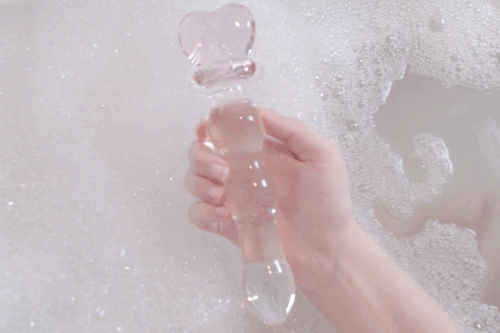 Glass is also the perfect material if you are looking into sensation or temperature play. It can be heated up in warm water or cooled down in the freezer.
You can also use any kind of lubricant with glass toys and not have to worry about ruining it! That means glass anal toys can be used with silicone lubricants! Sliquid Silver is one of our favorite silicone lubricants to offer because it is long lasting and it is also very vulva owner friendly. It is PH balanced, glycerin free, and paraben free. One of my favorite glass butt plugs is this Galileo one, its it so beautiful and the size is a good intermediate!
If you are looking for a wide array of glass pieces, Icicles is perfect. They have so many colors, textures, and shapes. A lot of their toys are also safe for anal play as well because that have a decent flange on the end. Here are some of my favorites! The 63, 75, and 76!

Moral of the story? Try something different! Glass isn't as scary as it seems and sometimes when you try something new you never turn back!
Written by Charlie
I have been a certified sexual health expert here since November 2018. I enjoy sharing my knowledge and even learning some more along the way!
|
Posted on August 25 2020