Strict Padded Sling and Other Position Aids
I've tried multiple position aids in the past and by far this one is my favorite. It is very comfortable and easy to use. Strict has a nice line of different kinds of restraints. I have also used their thigh restrains which were very comfortable because they are padded.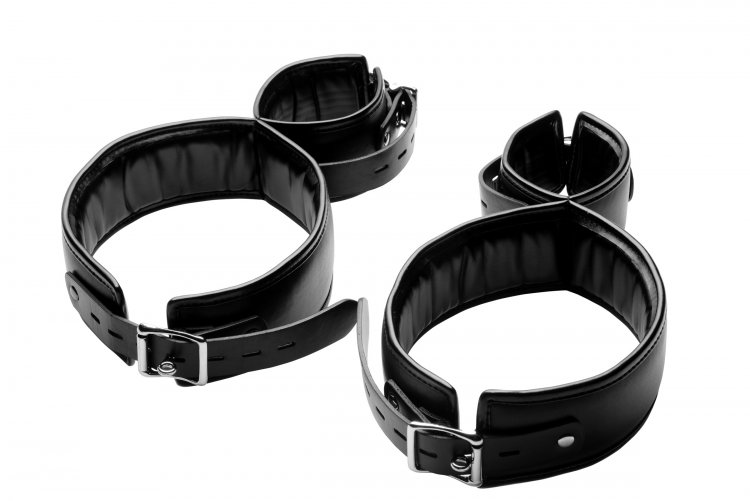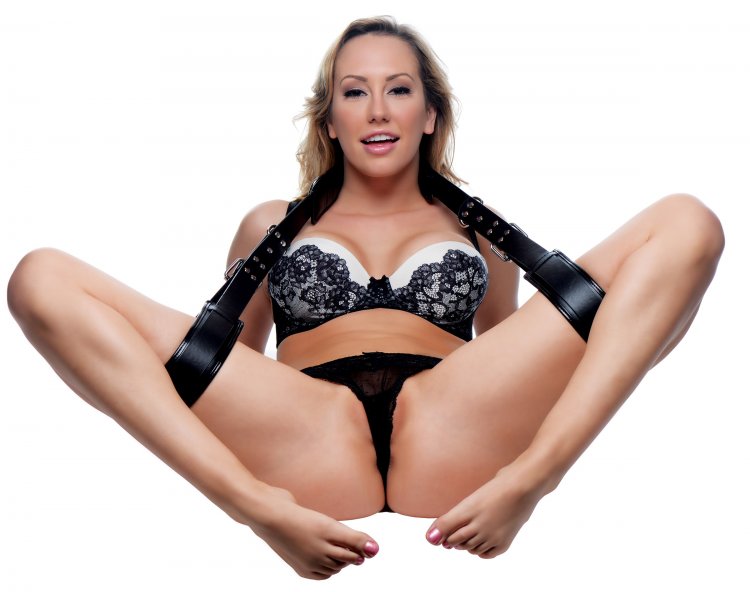 This position sling aid allows for your partner to make deeper penetration and send you into complete ecstasy. With deeper penetration, you can get more g spot stimulation, and maybe even a spot. 
Some of the great features of this position aid is the comfortable padded neck support, helps keep your partners legs up and wide open, it also has 2 attached D-rings so you can add your own restraints. The straps are also adjustable so you can have your legs as high or as low as you like.
I really like this product because I have issues being able to hold my legs up for a long period of time. Using this product takes all the worries and strain away and allows me to enjoy my partner without discomfort. I would recommend this position aid to anyone looking to try new positions and for people who struggle with being comfortable during sex.
Another positioning aid I like is the Adam & Eve Inflatable Wedge. I can be used in any position imaginable and is very comfortable. The color is a plus too!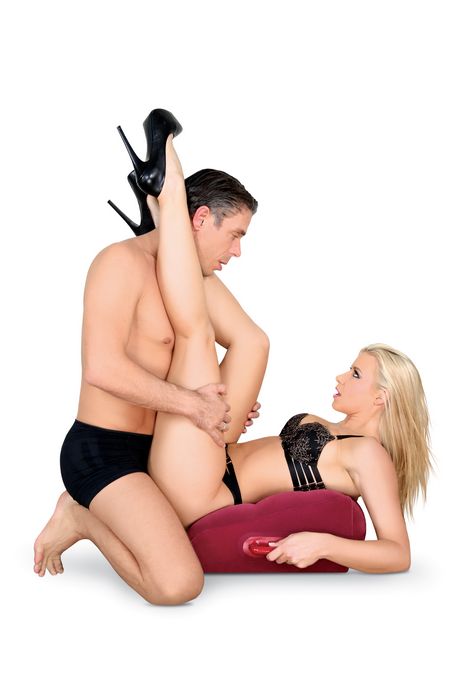 They are meant to elevate and support your back to improve the positioning for certain sex positions. Wedges are smaller and designed to support specific areas, like elevating your hips. Sex wedges are triangular in shape, with one end being larger and it gradually angles down.

A sex pillow is a firm angled "pillow" that comes in a variety of shapes and sizes. Sex pillows help you try new sex positions and angles comfortably. They're firm, and angled and come in a variety of sizes. They can help with  deeper penetration and that may make for a more satisfying, comfortable sexual experience. 
There are many options to choose from. Common types of sex pillows include:
Wedge Pillow: This is a small, triangle-shaped sex pillow. It can help with sexual positions that put a strain on your hands and knees. Among the things you can use it for: raising your hips, raising your knees and thighs, having a padded space for your arms and legs. 
Sex Ramp: A sex ramp is a sloping surface that gives broad support for your back. Sex ramps can be paired with a wedge pillow to make some sex positions more accessible.
Sex Mount: These pillows are usually firm and shaped like a body pillow. Sex mount pillows often have a place for you to mount a sex toy so you can be hands-free.  
Why People Like Them
Unlike regular pillows or couch cushions, sex pillows are specifically designed to help with different sexual positions. They give you a firmer, more stable base to work with. That can take pressure off painful joints and puts your body in a better angle for deeper penetration.  This can enhance your favorite positions or help you try new ones. They're also easier to clean, as most of them are machine washable.
What Is the Difference Between A Sex Wedge and A Sex Ramp?
Both a sex wedge and ramp are sex pillows. But, they help with different things in the bedroom. However, both the wedge and the ramp can be used together. 
Ramps are bigger and support the upper torso and back. They are meant to elevate and support your back to improve the positioning for certain sex positions.
Sex Wedge
When looking for a sex pillow, it's important to think about how firm you want it to be, if you want a small or large angle. Consider what positions, comfort, or pleasure you want your sex pillow to help you achieve.
Written by Shelly
Sex Educator at

Intimates Boutique
I have been a certified sexual health expert here for two years. I enjoy sharing my knowledge and even learning some more along the way!